Getting to Know Patrick Gray
All clients at Fletcher Jones Imports can always expect their cars to be washed and vacuumed after any service with us, and Preferred Owners may enjoy a wash even without a scheduled service.  Our complimentary car wash for Preferred Owners is open six days a week.  It takes a team and a lot of effort to pull this off, keeping our clients happy and their cars shining.  Here is your chance to meet a key player in this very important operation.
Say hello to the man who manages the Fletcher Jones Imports car wash department, Patrick Gray.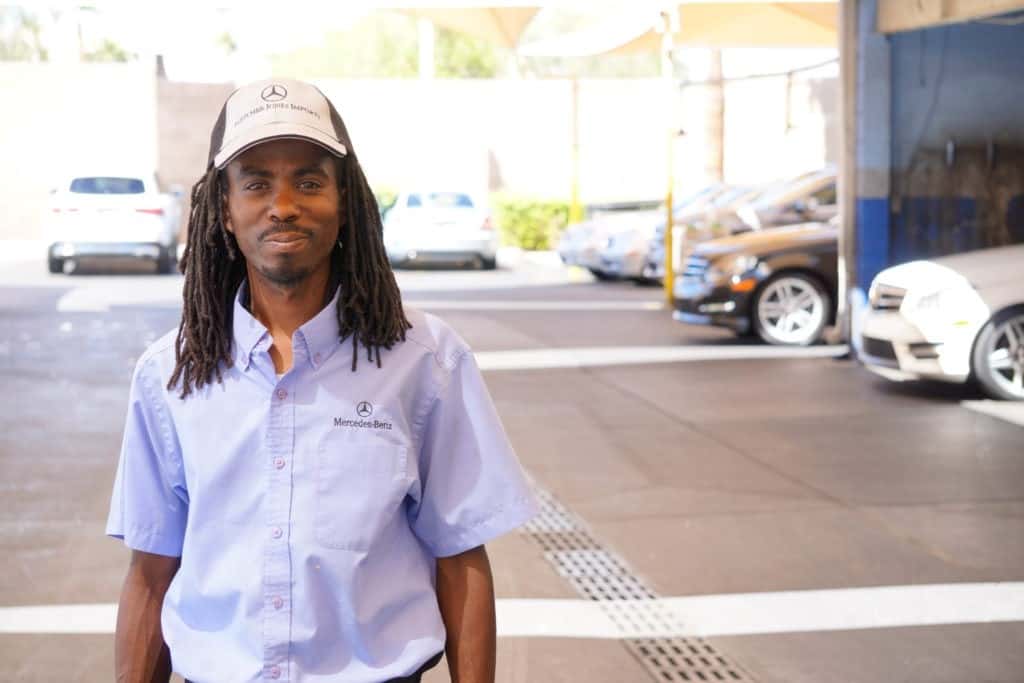 Patrick's interest in cars sparked at the age of 16 when he began washing cars for Prestige Ford in Dallas, TX. After wanting to explore new places, Patrick journeyed to southern Nevada to join the Fletcher Jones Imports team! Within a year, he received the Employee Recognition Award for his of hard work and dedication. When he isn't ensuring you and your Mercedes-Benz are receiving extraordinary service, you can catch him spending time with his daughters or playing his piano.
In his 12 years at Fletcher Jones Imports, Patrick still continues to bring his best self to work every day and motivate his peers to do the same in order to truly live up to the Mercedes-Benz brand.
We are fortunate to support our community by having a special group of team members on hand to help. For the past two years the Fletcher Jones team has teamed up with Opportunity Village; a not-for-profit organization serving adults in the southern Nevada community with intellectual and related disabilities.
Members of Opportunity Village work  five days a week for four hours a day to help the Fletcher Jones car wash department wash and vacuum cars.  Their training provides these individuals with new skill sets and the opportunity to explore a potential career path.
Come say hello to Patrick next time you stop by Fletcher Jones Imports for your weekly car wash!
Want to be a part of your legacy? Click below to start your application.