How Many Kids Can Fit Into The Mercedes-Benz Sprinter Passenger Van?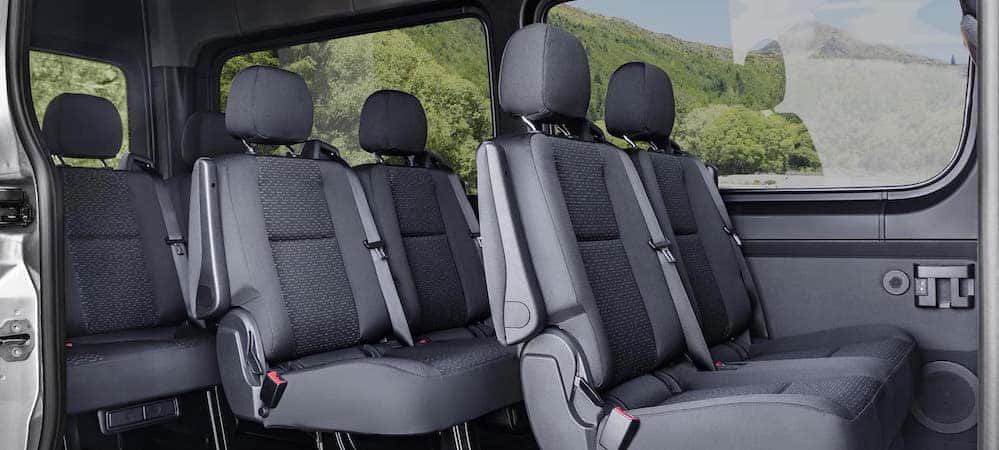 While the Mercedes-Benz Sprinter Van is commonly used for commercial purposes, it is also a very family-friendly vehicle. The Sprinter Van is perfect for road trips, as its spacious interior and cargo area provide plenty of room for the whole gang and their luggage. Still having trouble envisioning you and all the kids cruising to the next family reunion in a Sprinter? Today, we have a visual representation of just how many people will fit inside the Sprinter Van interior.
A Demonstration of the Sprinter Van Seating Capacity
As you can see in the video below, up to 16 kids can squeeze inside the Mercedes-Benz Sprinter Passenger Van when stationary, simply based on its spacious interior dimensions. However, for travel purposes, it is important to note that the Sprinter Van seats up to 12 passengers, which means up to 11 kids and one driver can fit inside the vehicle safely based on the number of seat belts. The large number of Sprinter seats and ample amount of interior space isn't the only reason that the Sprinter Van is a family-friendly vehicle, though. The Sprinter Passenger Van offers plenty of entertainment and advanced safety features as well!
Technology
Keep your children entertained during long road trips with the Sprinter Van's wide selection of technological features, including a 13-speaker sound system and AM/FM radio. The Mercedes-Benz Sprinter Passenger Van also offers an iPod interface and Bluetooth®, allowing you to play music straight from your phone or MP3 device!
Safety Features
You can have greater peace of mind with the many advanced safety features offered on the Mercedes-Benz Sprinter Passenger Van. Some available features include:
ATTENTION ASSIST®: This feature prevents drowsy driving by monitoring your driving behavior. When fatigue is detected, the system will send the driver an early warning.
COLLISION PREVENTION ASSIST: This driver assistance system sends visual and audible warnings when vehicles in front of you get too close. The system will boost the braking pressure levels in emergency situations in order to prevent a crash.
Blind Spot Assist: Blind Spot Assist detects vehicles in your blind spots using radar sensors and can warn you visually and audibly.
Explore the Sprinter Passenger Van at Fletcher Jones Imports
Contact us at Fletcher Jones Imports near Summerlin and Pahrump to schedule a test drive with any of our in-stock Sprinter Passenger Vans today. Before you visit our dealership, make sure to learn more about the advantages to owning a Sprinter and the Sprinter services that we offer!