2017 SUV OF THE YEAR
With its first-class design and turbocharged I-4 engine, the 2016 Mercedes-Benz GLC SUV brings the 2017 Motor Trend Magazine's SUV of the Year award, home.
This comes as no shock considering it is equipped with mechanical features that you can find in the Mercedes-Benz E-Class and designed with a C-Class exterior to give you the best of both sedan worlds, with the utility and height of an SUV. You can expect to get an EPA of 21City/28Hwy/24Comb MPG. To top things off, the interior is lavished with wood and leather for the ultimate luxurious feel. Receive everything you want with the Mercedes-Benz GLC.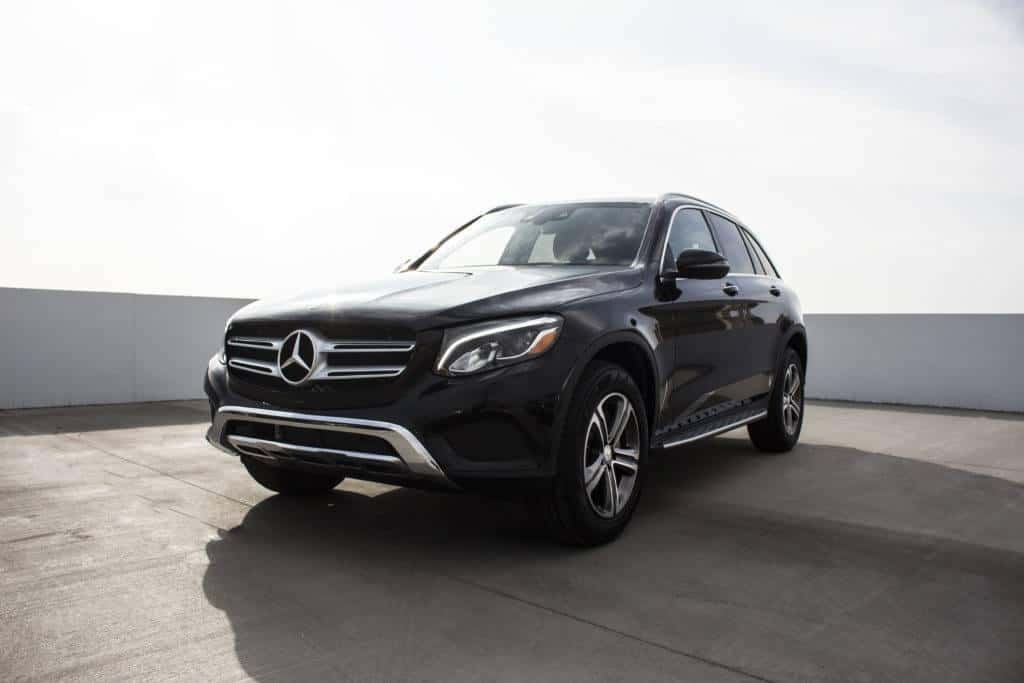 Award Criteria
Aside from why we think the Mercedes-Benz GLC is a natural winner, Motor Trends reasons were based on the following criteria:
Design
– Exterior and interior styling
– Innovative vehicle packaging/features
Value
– Price and equipment levels compared with other vehicles in the same market segment
Travel first-class every time. Know that you have the comfort of owning luxury at a cost-effective price point compared to other vehicles in its class such as, the Jaguar F-Pace. If you're seeking an upscale vehicle to travel comfortably with the addition of added technology features such as, navigation to help you get to where you're going with ease, then the Mercedes-Benz GLC was meant for you.
Performance of Intended Function
-Overall performance the vehicle's planners, designers, and engineers intended for
Mercedes-Benz designed the SUV to trap high-performance and luxury in a leaner, aerodynamically refined vehicle. If you're traveling through Cajon Pass, lessen your worries with features like Crosswind Assist that help you detect the effects of strong side winds, 4MATIC® for better traction in bad weather conditions, and rain-sensing windshield wipers, there is no need to worry about straying off course.
Efficiency
-Fuel efficiency and carbon footprint size
With spring and summer just around the corner, take a road trip to California and hit up Newport Beach, Laguna Beach, or anywhere you desire without having to spend much in fuel.
Safety
-Passenger safety measures and crash testing
No matter what precious cargo you are transporting, the Mercedes-Benz GLC has everything you need to protect from even the slightest impact, such as 9-way airbag protection and four outboard 3-point seatbelts with Emergency Tensioning Devices (ETDs).
Engineering Excellence
-Total vehicle concept and execution: packaging, manufacturing, and cost effective technology
If you're in the market for best SUV out there, rest assured you can't go wrong with the 2016 Mercedes-Benz GLC. Pack your skis, and journey in style to Mammoth Mountain. With all the snow falling in the mountains, it's the peak time to test out the Mercedes-Benz GLC and your snowboarding skills!
Coupe Agility, SUV Strength: All-New 2017 Mercedes-Benz GLC Coupe
For an extra boost of excellence, be sure to check out the all-new 2017 Mercedes-Benz GLC Coupe. Engineered with SUV power and a sensual coupe-like design, you can have the entire package. The Mercedes-Benz GLC Coupe was built to better serve you with its enhanced safety features, promising power, and aerodynamic luxury design. Personalize this vehicle to fit your style by choosing from a rich palette of cabin trims, custom trimmed leather, ambient lighting, and even adjust from one of 9 speeds and 5 different driving modes including:
Comfort
Eco
Sport
Sport+
Individual
Explore what else the Mercedes-Benz GLC Coupe has to offer, here.
Schedule Your VIP Reservation
Schedule your VIP test drive today by contacting: (702) 364-2700.