What is Mercedes-Benz DIGITAL LIGHT?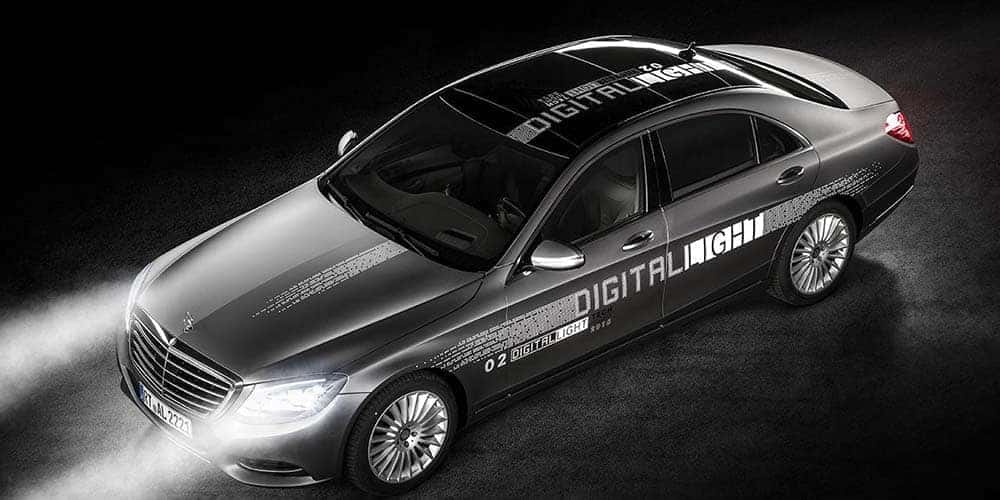 Mercedes-Benz DIGITAL LIGHT is a new headlight technology that not only improves visibility and brightness but also possesses driver assistance capabilities. These new Mercedes-Benz headlights are also dazzle-free, meaning they don't create glare for other drivers on the road. Learn more about how these new Mercedes-Benz headlights work below!
Brightness and Visibility
Each Mercedes-Benz DIGITAL LIGHT headlight uses over one million micromirrors (resulting in over two million micromirrors per vehicle between the two headlamps). With DIGITAL LIGHT, Mercedes-Benz created an intelligent control logic that uses algorithms that receive and interpret information about your vehicle's surroundings. Based on your surroundings, the headlight technology determines the brightness value for each pixel. In real time, the headlamps adapt their light distribution, resulting in optimized visibility for the driver and other nearby cars on the road.
Driver Assistance and Communication Ability
When you're driving in the dark, it can be hard to recognize traffic signs or differentiate between lanes. Mercedes-Benz DIGITAL LIGHT projects navigation guides, like directional arrows indicating a curving road. The technology also can provide traffic warnings and highlight road conditions ahead if you're having trouble seeing them. Not only can DIGITAL LIGHT assist you on the road, but in the future, it's also expected to feature the ability to communicate with other vehicles.
Learn More About Mercedes-Benz DIGITAL LIGHT at Fletcher Jones Imports
Interested in learning more about DIGITAL LIGHT or other sophisticated Mercedes-Benz features, such as mbrace®? Contact us at Fletcher Jones Imports for more information. Prefer to visit us in person? Stop by our dealership near Pahrump and Summerlin to test drive any of our new in-stock Mercedes-Benz models!